Multiplanter
This is the machine that will deliver sustainable agriculture into the hands of Farmers!
Built from below the ground up – this machine carries all the hallmarks of the Multi Farming Systems philosophy. A robust mainframe, uniform and precise depth control, 15 degree tool tip angles and the preferred 333mm (13 1/3″) rows!
It's capable of planting into all conditions, ranging from conventionally farmed soils, minimum till, full trash cover situations – even in virgin soils that have never been touched by machinery.
All over the world farmers are moving into no till farming and the results are unanimous! The Multiplanter Just Works!
Frame:
The robust planter frame is available in almost any configuration, from linkage mounted, to folding wing, flat folding wing and even end tow for the widest machine.
The modular construction of the frames means that you can also add to your machine as your profitability increases and your operations expands.
Tynes are not cramped by the placing of wheel assemblies within the frame. Wheel assemblies are mounted front and rear on most machines. This maintains a much flatter frame aspect even in the roughest and harshest of zero till situations.
The Multiplaner Tyne:
This is the tyne that has revolutionised seed placement.
It's unique in every way, starting with the long, sweeping "C" curve tyne profile – trash just rises up and rolls right off! The long rear lead enables maximum penetration with the minimum of pressure applied.
The tyne is tried and proven, with a 50mm (2″) diameter hydraulic ram pressurised from fluid held within the frame of the machine.
This clever system holds the tyne firmly in the ground and does not allow it to slop around, therefore wear and tear in the linkages is almost eliminated.  Seed placement accuracy is the ultimate over the longest of machine life.
The tynes are wedge fitted for ease of alteration to row spacings, with spreader bolts preventing wedges from jumping out.
With its "shift on the go" pressure adjustment on the press wheel, uniform seed depth control, minimised soil disturbance, and superb trash handling ability. Multiplanter farmers are absolutely spoiled!
NEW!  Multi Farming Systems has partnered with Precision Seeding
Solutions to fit their precision seed placement boxes to the rear of our Multiplanter tyne assemblies.  Talk to us about fitting them to new or existing machines.
The Tip:
Down here is our very own 2 inch winged spear-tip, set at that magic 15 degrees, and sharp enough to dig but not so that it shovels dirt everywhere at ideal planting speeds.
Just a magnificent little pocket of fine soil around the seed, just where it's required. A top seed bed around the seed without opening up the soil and releasing all the valuable moisture, or spending a fortune on fuel to achieve a loss.
Banding boots for double splitting seed and fertiliser can be easily fitted to suit either sandy or heavy black soil conditions.
For conventional farming, other attachments such as a 2 inch chisel points and 15 inch sweeps can be fitted.
Now imagine that – a sweep that is depth wheel controlled, operating at precise soil entry angles to reduce draft and fuel costs.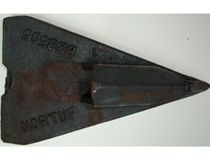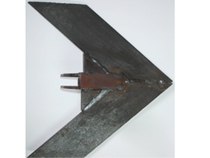 Multiplanter Sweep
Now take a look at the innovative sweep developed by Multi Farming Systems, suited to fitting on all Multiworker and Multiplanter Tyne Assemblies.
Most conventional sweeps do not retain their original manufactured width as they wear.
Usually manufactured from inferior metal they often have a very wide mid profile making them hard to pull. This leads to added stress on the frame causing further replacement costs and down time. This sweep width is a problem few designers have addressed until now.
The stronger Multi Farming System sweeps are made from quality spring steel so that they retain their profile.
See how this middle profile is much narrower making the sweep a whole lot easier to pull, and because the entry angle of the sweep is very flat it minimise soil disturbance.
In fact Multiplanter farmers claim the Multi Farming System sweeps retain their width, and in many cases lasts 4-5 times longer than conventional sweeps.
Press Wheel:
The 18″ diameter press wheel is parallelogram controlled not the tyne, and the press wheel pressure can be altered on the run as soil types and moisture conditions vary.
55mm (2″) semi pneumatic press wheels are standard for most machines, and some customers use solid tyres behind their tractor wheels to prevent the tyres from choping out so badly.
In sandy soils the 80 mm wedge prevents side walls from caving in but still allows the speartip to penetrate.
100mm (4″) soft flat tyres work well for customers with very soft country, because it prevents the tip from penetrating too far.
NEW!  Ask us about the Agi-Hub Zero maintenance wheel which has the seal and bearing fully contained within the casing.  This prevents the seal from getting chopped out by trash and dirt from turning the grease into a grinding paste.
Rear Steering:
Multiplanters with wheels fore and aft are able to fit rear steering rams and link into the tractor's Global Positioning System (GPS) autosteer. For wider machines above 60 foot this steering system becomes highly recommended to avoid slope creep.
Interestingly, research shows that savings of up to 30% are available through the use GPS technology with a minimum of overlap, while some conventionally farmed land is as much as 17% double farmed.
Farmer Video Testimonials - Multiplanter